PADMASANA – The Perpetual Perception Solo Show Of Paintings By Contemporary Artist Alpa Palkhiwala In Jehangir Art Gallery
Posted by
admin
on Dec 28th, 2022 |
Comments Off

on PADMASANA – The Perpetual Perception Solo Show Of Paintings By Contemporary Artist Alpa Palkhiwala In Jehangir Art Gallery
From: 26th December 2022 to 1st January 2023
Padmasana – The Perpetual Perception
Solo show of Paintings
By Contemporary artist Alpa Palkhiwala
VENUE:
Jehangir Art Gallery
161-B, M.G. Road
Kala Ghoda, Mumbai 400 001
Timing: 11am to 7 pm.
Contact: 92650 20945, 98795 68993
A solo art exhibition showcasing the thematic work of a contemporary artist from Ahmedabad, Alpa Palkhiwala is showing in Jehangir Art Gallery, M.G. Road, Kala Ghoda, Mumbai 400001 from 26th December, 2022 to 1st January, 2023 between 11 am. To 7 pm.
This show was inaugurated on 26th December 2022 by Mr. Rishiraj Shetty(Director Aura Art Pvt Ltd.), Jeenendra Bhandari(Partner MGB, Vice Chairman, JITO JIIF), Bharat Shah(President MDMA) in the presence of  Gayatri Mehta(Eminent Artist), Mr. Jayesh Labdhi(MDMA), Mr. Sachin Shah, Mr. Rajan Parikh(Secretary MDMA)
Alpa Palkhiwala completed a course in fine arts and Bachelor of Arts with history. She had some experience as a graphic designer in a few leading firms and gained good essence of relevant ingredients and techniques. Then she started her art journey and had her 1st show of artwork in 2006. Her subsequent solo shows were held in 2012, 2015 and 2022 and she  had participated in several group art shows held in Mumbai, Bhopal, Noida, Kolkata and Chicago  – USA  etc.  Her works in renowned art galleries in these exhibitions received good public response and appreciations from the present art world. Her works are in proud collection of several art collectors in India and abroad.
Her present series has been inspired  by spiritual art by pairing and amalgamation of artistic mind, body and breath that renders energy and peace to the creator of the artwork. She has  illuminated  this energy in the artwork with layer work and earthy colours. She has created and presented the Transcendental Universe series in dark hues of black and grey colours created on raw canvas with acrylic colours, ink and charcoal to achieve the finish like that of  an  etching print. Which was created by hand. It is marvellous and mesmerising in its own way. She has complimented the elements of Indian mythology with Padmasana and studied Jain Manuscript while creating this  series.  She got invaluable guidance about thematic peculiarities and techniques from Mr. Vrindavan Solanki – a well known/ renowned artist of the past era. She has adorned the Padmasana Series with Kundalini Chakra, Siddhachal, Samovasarana, the insights of enlightenment, bliss of solitude, vibrations of Dhyan, The Silent explosion  to Om to Nirvana and many more visual motifs. All these expressions of meditative calmness and the  ensuing innate cosmic energy within oneself which can be experienced with practice, exaltation and awakening  of the self-realisation a prominent place in her works. She has also created and presented the Conquer yourself Series with an emphasis on simple lines, forms, space, unstructured shapes and apt colours along  with  the earthy colours via their artistic/ aesthetic tonal rhythm and harmony in the relevant perspectives of visual arts.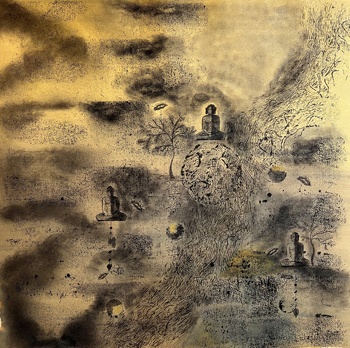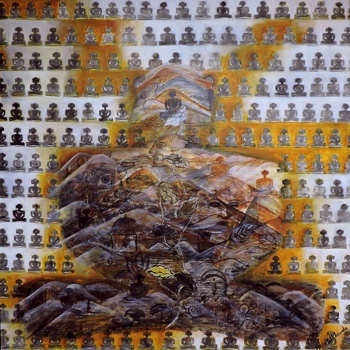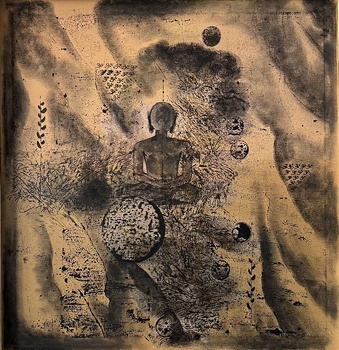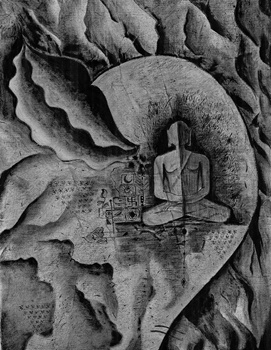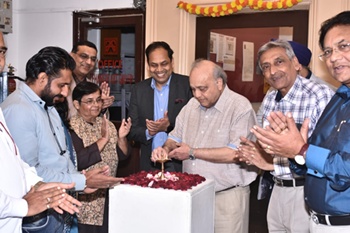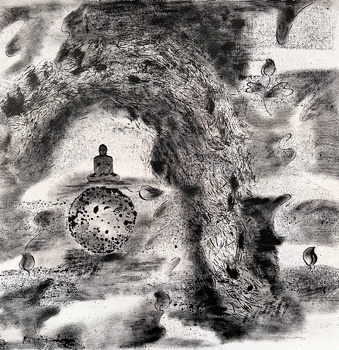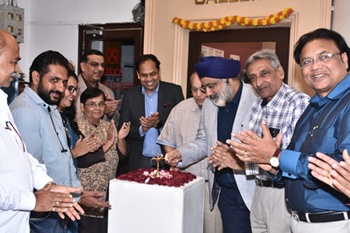 PADMASANA – The Perpetual Perception Solo Show Of Paintings By Contemporary Artist Alpa Palkhiwala In Jehangir Art Gallery