VASUNDHARA An Exhibition Of Paintings By Well-Known Artist Arpitha Reddy In Jehangir
Posted by
admin
on Feb 18th, 2023 |
Comments Off

on VASUNDHARA An Exhibition Of Paintings By Well-Known Artist Arpitha Reddy In Jehangir
From: 14th to 20th February 2023
"Vasundhara"
An Exhibition of Paintings
By
Well-known artist Arpitha Reddy
VENUE:
Jehangir Art Gallery
161-B, M.G. Road
Kala Ghoda, Mumbai 400 001
Timing: 11am to 7pm
Contact: +91 95828 31664
Arpitha Reddy, an accomplished artist from  Hyderabad, has showcased her recent paintings on "Vasundhara" the goddess of the earth at Gallery No:  2 Jehangir Art Gallery, Mumbai from 14th February 2023 to 20th February 2023.
This exhibition is a collection of large format paintings celebrating her beauty, her boon giving and nurturing ability. She also presented Lord Vishnu, god of love, benevolence and forgiveness in the form of " Varaha" protecting her for the preservation of the universe.
" Her Vasundhara is a robust bright eyed beauty born of the expression of all that is beautiful, resonant, complete in both devotion as well as dedication to the idea of the eternal tree of life and Vasundhara as an avatar and consort of Lord Vishnu," says art critic Uma Nair who has authored the sumptuous catalogue.
Nair a renowned and eminent art critic,  has been writing for several prominent artists all over world more than three decades, has expressed that Arpitha's felicity with contour and colour is filled with simple means, and creates an inspirational impact. Nair's authorship comes this month also at Centre Pompidou to celebrate Sayed Haider Raza at 100 years in a catalogue that is translated into French and carries her interview with Raza on Gandhi.
About the artist :
Arpitha an  alumnus of JNFAU College of Fine Arts,  trained in the temple mural style at Guruvayoor Institute of Mural Paintings. She has experience in numerous traditional art forms including Pata Chitra, Phad, Thangal, Cherial, Tanjore, Kalamkari, and has almost two decades of experience in practicing the murals. Now her works are an adaptation of the Kerala murals after she has given herself freedom to assimilate different traditional art forms into her paintings. She has several awards and honors to her credit. She has exhibited her paintings in major cities of India and Abroad. Recently She represented India in a symposium at Samarkand during the Shanghai cooperative organization summit in September 2022, organized by the ministry of tourism and cultural heritage Uzbekistan.
International and Indian collectors
Her works belong to prestigious collections over the world. Various prestigious institutions and art collectors around the globe like MOSA- Museum of spiritual Art, Belgium, Venkateshwara College, New Delhi, Indira Nooyi, Chairperson and chief executive officer of Pepsico all have her works in their collection.
This exhibition was inaugurated on 14th February 2023 by Shri. Prabhakar Kolte and  Shri. KU Krishna Kumar, Principal of Institute of Mural painting established by the Guruvayur Devaswom, Kerala, Mrs. K.G. Menon,  The Secretary – Jehangir Art Gallery and  Ms. Uma Nair  Renowned art critic from Delhi in the presence of many other important personalities from the art fraternity.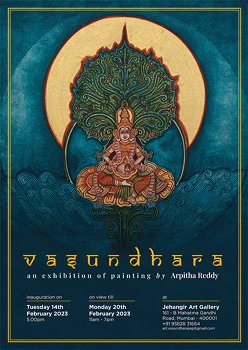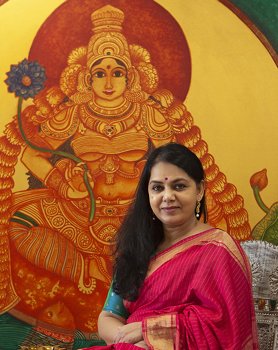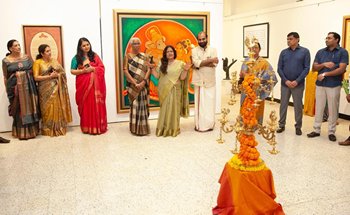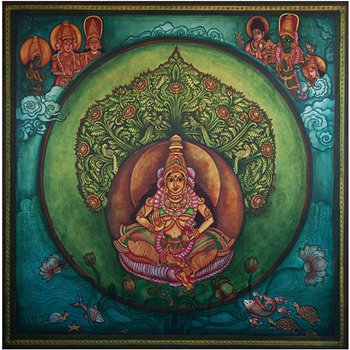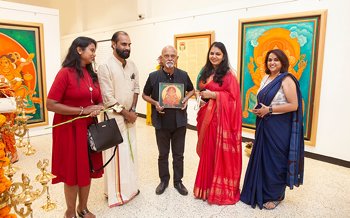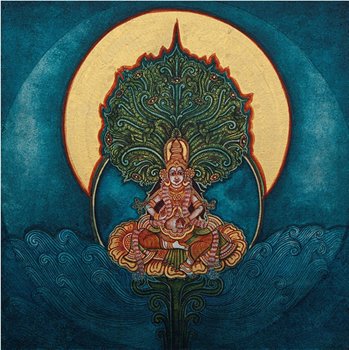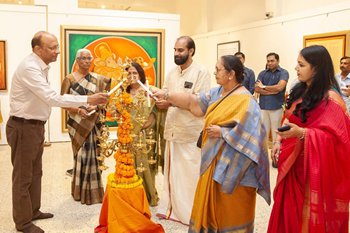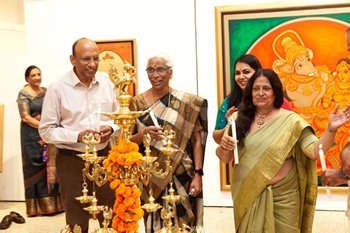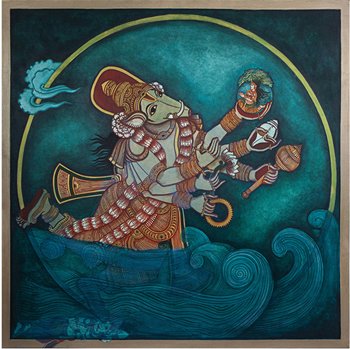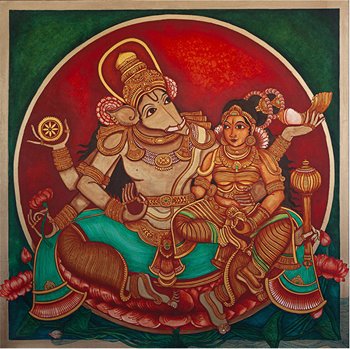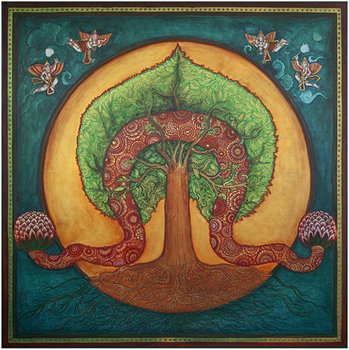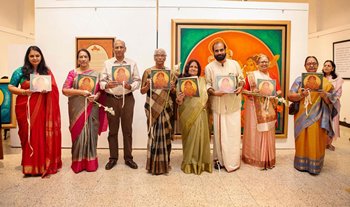 VASUNDHARA An Exhibition Of Paintings By Well-Known Artist Arpitha Reddy In Jehangir